What to make with your box contents w/c 16 May
Be creative and adapt recipes to suit what you have in your fridge and store cupboard.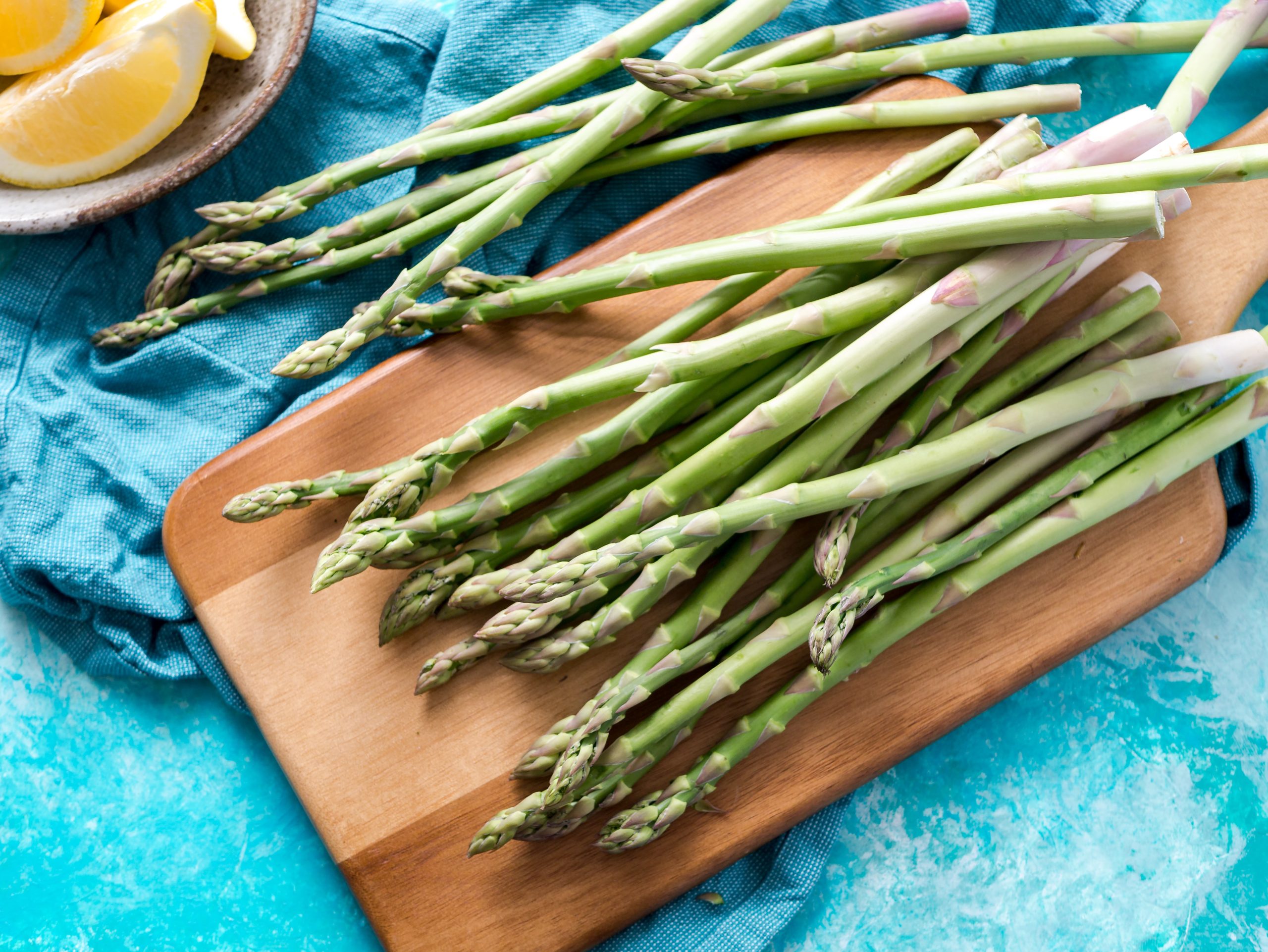 Crustless asparagus and bacon quiche
This asparagus quiche may have four types of cheese in it (and streaky bacon), but thanks to its crustless nature it still comes in at under 450 calories
Recipe source: Olive magazine
50g unsalted butter, plus extra for the tin
250g asparagus, trimmed
12 rashers streaky bacon, roughly chopped
5 spring onions, finely chopped
3 cloves garlic, crushed
5 large eggs
200ml whole milk
100g ricotta
50g gruyère, finely grated
75g parmesan, finely grated
50g mature cheddar, finely grated
green salad, to serve
Method
Heat the oven to 190C/fan 170C/gas 5 and butter and line a 20cm x 25cm tart tin. Blanch the asparagus for 5 minutes in boiling salted water, drain and put aside.
Fry the bacon in a small frying pan over a medium-high heat until crispy. Pat with kitchen paper to remove some of the fat, and cool. Wipe the frying pan. Add the butter and fry the spring onions for 2 minutes. Add the garlic and fry for another 5 minutes.
Beat the eggs, milk and ricotta with plenty of seasoning in a large bowl until combined. Add in the grated gruyère, 50g of the parmesan and all the cheddar, and stir in the bacon. Pour into the tin and gently push in the asparagus spears evenly across the tart, followed by the remaining parmesan. Bake for 25-30 minutes or until the quiche is golden and set, with a slight wobble. Serve with a green salad, if you like.
Creamy mushroom and spinach penne
175g wholemeal penne
50g unroasted, unsalted cashews
10g dried porcini mushrooms
1 tsp vegetable bouillon powder
1 tbsp rapeseed oil
120g chestnut mushrooms, halved if large, thinly sliced
2 large garlic cloves, finely grated
200g baby spinach
Method
Cook the penne following pack instructions and put the kettle on to boil. Meanwhile, put the cashews and dried mushrooms in a medium heatproof bowl along with the bouillon powder, and pour over 200ml boiling water from the kettle. Leave to soak for 5 mins. After this time, blitz the mixture with a hand blender until smooth and creamy.
Heat the oil in a large non-stick frying pan over a medium heat and fry the fresh mushrooms and garlic for a couple of minutes until just starting to soften. Add the spinach and continue to cook, stirring frequently until the spinach has wilted. Drain the pasta, reserving a little of the cooking water. Tip the pasta into the pan with the mushroom mixture, season with plenty of black pepper and toss everything together well. Remove from the heat and stir through the creamy mushroom sauce, adding a drop of the reserved cooking water if needed to loosen. Serve straightaway.
Slow roasted baked onions
Marinade
120ml

 

water

1

 

tbsp

 

brown sugar

1/2

 

tsp

 

fresh rosemary

 

chopped

1/4 tsp

 

salt

1/4

 

tsp

 

black pepper

Pinch

 

red pepper flakes

 

optional

2

 

large

 

onions
Roasting
2

 

tbsp

 

butter

1/2

 

tsp

 

fresh rosemary

 

chopped
Method
Blend marinade ingredients in small bowl and pour into a baking dish that will hold all 8 onion halves.
Trim the end of onions and cut horizontal (leaving skin on) and place cut side down in marinade. Marinate overnight covered in refrigerator.
Preheat oven to 200°C. Flip the onions over in the marinade, and lay on the flat bottom of each side. Top each onion with 1/2 tablespoon of butter and remaining teaspoon of rosemary.
Roast uncovered in oven for 1 hour or until golden brown, basting once or twice during roasting. Remove from heat, spoon reduced sauce over and sprinkle with parsley or more fresh chopped rosemary. Remove outer skins before eating and serve.
Risotto stuffed ramiro peppers
A modern twist on this old vegetarian favourite of stuffed peppers, this time using a creamy spinach risotto with an tangy olive tapenade…
Recipe adapted from: Netmums
1 vegetarian stock cubes (dissolved in 1 litre of water)
1 tbsp olive oil
1 leek, finely chopped
garlic (2x cloves), crushed
100g spinach, chopped
25ml vegetarian white wine
1/2 lemon (zest only)
125g risotto rice
75g frozen peas
salt
black pepper
4 red Ramiro peppers
3 tbsp olive tapenade (shop bought or homemade – You can make your own tapenade by blending 30g olives, 1 tsp capers, 2 tsp olive oil and 1 tsp dried oregano)
10 small cherry tomatoes on the vine (5 per person)
Method
Preheat oven to 220'C/Gas mark 7
Put the vegetable stock into a saucepan and simmer
In a large, wide frying pan fry the leek in a little oil for 5 minutes until softened
Add the garlic and fry for another minute
Add the white wine, lemon zest and rice to the leeks and stir well making sure that the rice is well coated
Cook until the wine has been soaked up by the rice
Now ladle some of the stock over the rice and stir
As the stock is absorbed by the rice keep topping up with more hot stock from the saucepan and keep stirring (you may not need all the stock depending on the size of pan used)
It should take about 15-20 minutes until the risotto has a creamy consistency and the rice is cooked
Add the peas and spinach to the risotto about 5 minutes before the end, season to taste
Cut the tops off the Ramiro peppers and stuff with the risotto, followed by a teaspoon of the tapenade
Repeat this for all the peppers until they are filled – you will have risotto left for serving, set the remaining risotto to one side, reheat just before serving
Place the peppers and tomatoes onto a foil-lined baking tray, drizzle with a little olive oil and roast for 10-15 minutes
To serve, place a large spoonful of the spare risotto onto a large plate and stack two peppers against it
Place a set of cherry tomatoes next to the risotto – serve with a quick oriental salad
Garlic parmesan broccoli and potatoes in foil
The easiest, flavour-packed side dish EVER! Wrap everything in foil, toss in your seasonings and you're set!
Recipe source: Damn Delicious 
3 tablespoons olive oil
3 cloves garlic, minced
1 tablespoon Italian seasoning
1/4 teaspoon onion powder Kosher salt and freshly ground black pepper, to taste
680G broccoli florets16
450G baby potatoes, halved
22.5G freshly grated Parmesan
2 tablespoons chopped fresh parsley leaves
Method
Preheat oven to 200 C
In a small bowl, whisk together olive oil, garlic, Italian seasoning and onion powder; season with salt and pepper, to taste.
Fold up all 4 sides of each foil packet. Spoon the garlic mixture over the broccoli and potatoes.
Fold the sides of the foil over the vegetables, covering completely and sealing the packets closed.
Place foil packets in a single layer on a baking sheet. Place into oven and bake until tender, about 15-25 minutes.*
Serve immediately, sprinkled with Parmesan and parsley, if desired.
Chocolate orange banana bread
This is a great recipe to make with children. It's relatively simple to make, using justtwo bowls and no special equipment as everything is mixed by hand.
275g plain or all purpose flour (can be gluten free)
1 tsp baking powder
3/4 tsp baking soda
2 medium ripe bananas, mashed
75g coconut oil or butter, melted
70g honey
50g  plain yogurt
1 medium egg
2 tsp vanilla extract
1 orange
75g  chocolate chips
Method
Preheat the oven to 180c. Grease and line a 2lb baking tin with parchment paper.
Add the flour, baking soda and baking powder to a large bowl and mix with a spoon.
In another bowl add the mashed banana, coconut oil or butter, honey, yogurt, egg and vanilla extract and mix well with a spoon.
Add the zest and juice of the whole orange and mix again.
Add the wet ingredients to the dry ingredients and mix with a spoon just enough until all the ingredients have combined.
Finally stir in the chocolate chips.
Pour the mixture into the prepared tin and bake in the oven for 30 minutes. Remove, cover loosely with tin foil (this will stop the top of the bread getting too brown) and then return to the oven for another 20-25 minutes until the bread is cooked through and a skewer inserted in the middle comes out dry.
Once the loaf has cooked, remove it from the oven. Allow to cool in the tin for 5-10 minutes before transferring to a wire rack to cool completely.