What to make with your box contents w/c 15 November 2021
Don't forget to check out our last few blogs here on box contents use.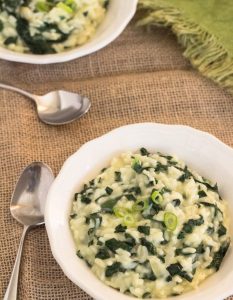 Red and green kale risotto
You can run this recipe up in half an hour; the only effort required is a bit of stirring.
500g mixed kale (red and green)
250ml white wine (optional, or use all stock)
1 litre hot chicken or veg stock
1 onion, finely sliced
1 tbsp fennel seeds
2 garlic cloves, chopped
1 tbsp olive oil for frying
400g risotto rice
balsamic vinegar
Parmesan or Pecorino, grated, to serve
salt and pepper
Method
In a pan of boiling water, blanch the kale for a couple of minutes, drain, refresh in a pan of cold water, drain again and keep to one side.
Combine the wine (if using) and stock. Fry the onions, garlic and fennel seeds in the oil on a medium heat for 5 minutes. Add the rice and stir until well coated. Turn down the heat and start adding the liquid.
Keep stirring and adding the liquid as it is absorbed by the rice. After about 10-15 minutes add the kale. When all the liquid has gone or the rice is done (whichever is sooner) add a splash of balsamic vinegar. Season to taste. Stir in some grated Parmesan to serve.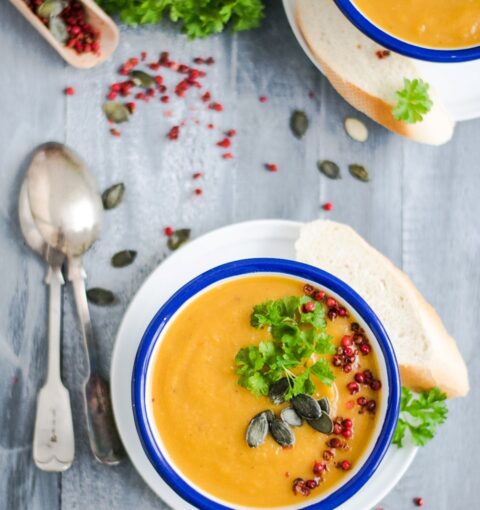 Crown Prince squash, ginger and coriander soup
750g crown prince squash, peeled and diced
3 cloves of garlic, peeled and finely chopped
30g ginger, peeled and finely chopped
1 tsp chilli flakes
700ml veg stock
A handful of fresh coriander leaves
1 tbsp fresh coriander, coconut milk and a pinch of chilli flakes, for garnish
Light oil for frying
Method
Sauté the garlic and ginger for one minute over medium heat in one tablespoon of light oil.
Add the squash, chilli and stock and bring to the boil. When the squash is tender add the coriander as purée.
Season to taste and finish with the garnish.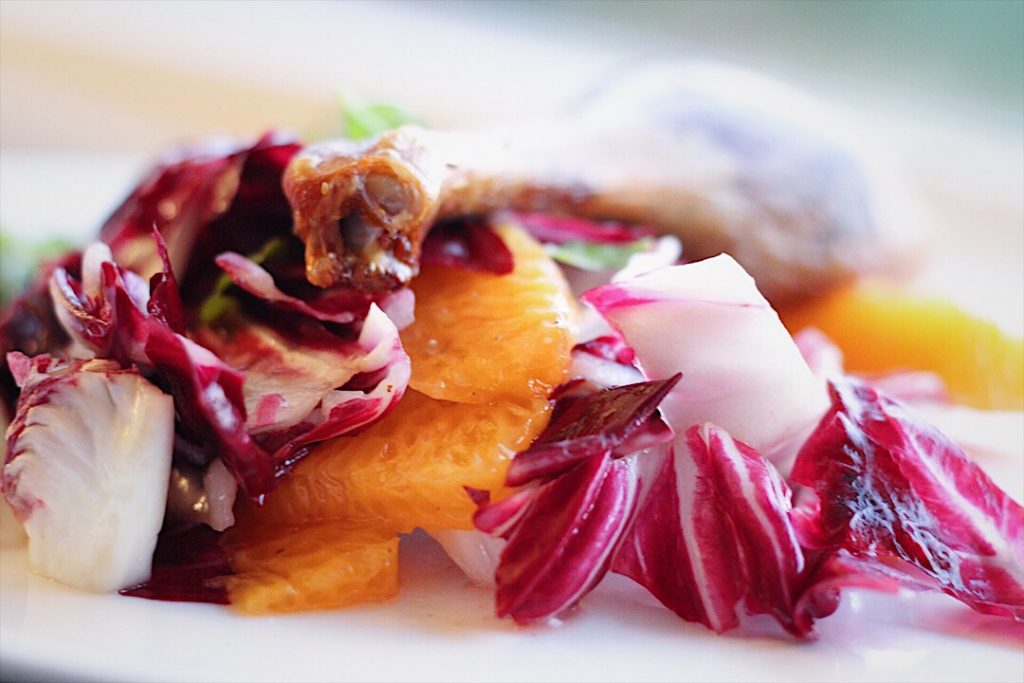 Crunchy and fresh, sweet and salty, bitter and briny this salad is a refreshing addition to heavier autumn and winter dinners. Perfect with duck.
Source: West Coast
1 Head Radicchio
1 tbsp Olive Oil
1 tsp Red Wine Vinegar
1 Large Orange
Salt and Pepper To Taste I used ½ tsp salt, ¼ tsp pepper
12 Large Green Olives
10-12 Basil Leaves
Method
Roughly chop the radicchio and toss with olive oil, vinegar, salt and pepper.
Cut top and bottom of orange peel off orange and squeeze the juice from the cut ends over salad. Finish cutting peel and pith off orange and then cut in sections (supremes) or slices and add to salad.
Add olives, tear and add basil leaves then toss again, adjust salt and pepper to taste and serve.
Radicchio Orange Salad With Olives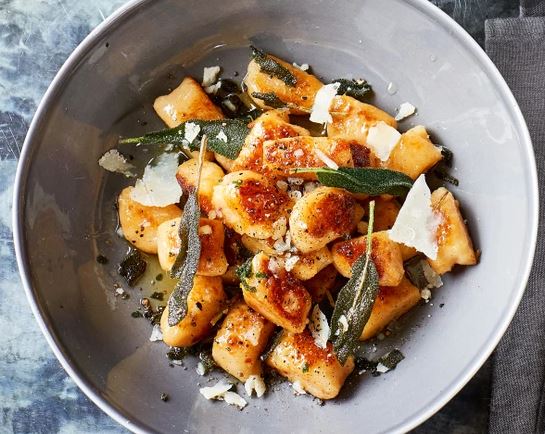 Swede gnocchi with crispy sage
Cook time: 1 hour 10 mins
Using much overlooked swede, you can create a budget-friendly, restaurant worthy gnocchi main course. Top with butter-fried herbs for a simple veggie dish
Source: BBC Good Food
400g floury potatoes
600g swede, peeled
4 tbsp olive oil
1 tsp chilli flakes
100g '00' flour , plus extra for dusting
30g parmesan (or vegetarian alternative), grated, plus extra to serve
100g butter
small pack sage leaves picked
Method
Heat oven to 220C/200C fan/gas 7. Cut the potato and swede into equal- sized chunks, drizzle with 2 tbsp of the oil, season and roast for 50 mins or until completely soft. Leave to cool slightly, then pulse in a food processor until broken down. Add the chilli flakes, flour, Parmesan and some seasoning, then pulse again to form a sticky dough.
Bring a large pan of salted water to the boil in which to cook your gnocchi later. Flour your hands and divide the dough in three. On a floured surface, roll each portion into a sausage about 1cm in diameter. Using the back of a table knife, cut into pieces 2.5cm in length – this gives a tapered edge to the pieces of gnocchi.
Working in batches, cook the gnocchi in the water for 30 secs or until they rise to the surface. Remove with a slotted spoon and drain on a tray lined with kitchen paper. Can be made to this stage up to 4 hrs ahead and kept in the fridge.
Turn the oven to its lowest setting and heat the remaining oil in a large frying pan over a medium heat. Fry the gnocchi in batches for 2 mins on each side until browned, then keep warm in the oven.
Melt the butter in the pan, add the sage leaves and fry until crisp. Divide the gnocchi between bowls then spoon over the crisped sage and buttery sauce. Serve with pepper and grated Parmesan.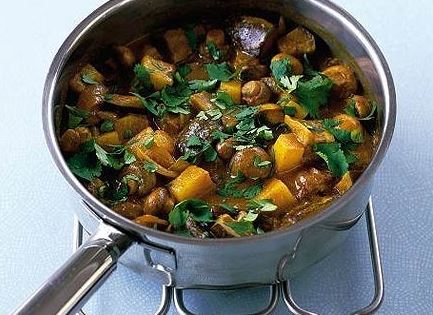 Mushroom and potato curry
Create a tasty, spicy vegetarian dish with mushroom and curry in less than half an hour
Source: BBC Good Food
1 tbsp oil
1 onion, roughly chopped
1 large potato, chopped into small chunks
250g button mushrooms
2-4 tbsp curry paste (depending on how hot you like it)
150ml vegetable stock
400ml can reduced-fat coconut milk
chopped coriander, to serve
Method
Heat the oil in a large saucepan, add the onion and potato. Cover, then cook over a low heat for 5 mins until the potatoes start to soften. Throw in the mushrooms, then cook for a few more mins.
Stir in the curry paste, pour over the stock and coconut milk. Bring to the boil, then simmer for 10 mins or until the potato is tender. Stir through the coriander and serve with rice or naan bread.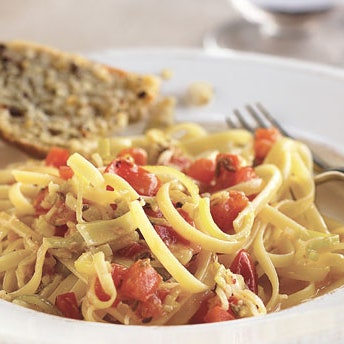 Linguine with spicy leek and tomato sauce
Serves 2 as main or 4 as starters
Quick to make and full of flavour, perfect for a comforting evening meal or a sensational starter.
Source: Bon Appetit
3 tablespoons extra-virgin olive oil
2 garlic cloves, chopped
1/2 teaspoon dried crushed red pepper
1/2 teaspoon fennel seeds
2 medium leeks (white and pale green parts only), split lengthwise, sliced crosswise
Vine tomatoes chopped
120ml dry white wine
1 tablespoon white wine vinegar
340g linguine
200g freshly grated Parmesan cheese, divided
Method
Heat oil in large skillet over medium-high heat. Add next 3 ingredients; sauté 1 minute. Add leeks; sauté until beginning to soften, about 4 minutes. Add diced tomatoes; stir 1 minute. Add wine and vinegar; bring to boil. Cover and cook until tomatoes break down, stirring often, about 5 minutes.
Meanwhile, cook pasta in large pot of boiling salted water until tender but still firm to bite. Drain, reserving 1 1/4 cup
 pasta cooking liquid.
Add pasta, 1/2 cup reserved pasta liquid, and half the cheese to sauce in skillet. Toss over medium-high heat until sauce coats pasta, adding more liquid by 1/4 cupfuls if dry. Season with salt and pepper and remaining cheese.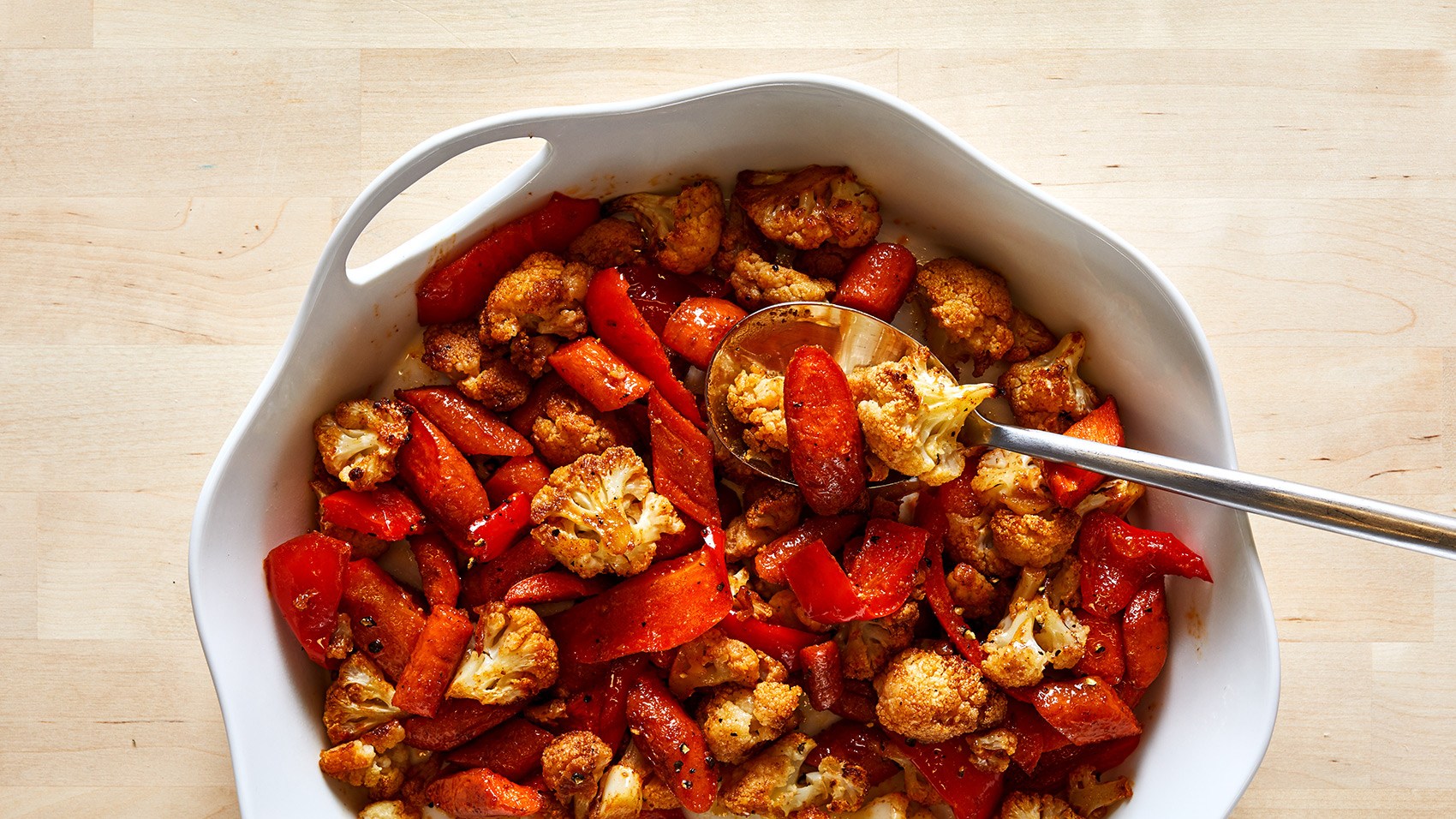 This out-of-the-ordinary trio of common ingredients is made supremely tasty with an easy sprinkle of spices.
It's a simple way to get more vegetables into your life. Serve hot, alongside rotisserie chicken one night; topped with fried egg on another night; and at room temperature, as a snack with hummus.
Source: The Washington Post
2

 

tablespoons

 

extra-virgin olive oil

1⁄2 

teaspoon

sweet

paprika 

1⁄2 

teaspoon

 

salt

1⁄4 

teaspoon

 

ground cumin

1⁄4 

teaspoon

garlic powder

1/8 teaspoon freshly ground black pepper

1 small head of

cauliflower cut into florets 

3

 

large carrots, scrubbed well and cut on the diagonal into one-inch long pieces, thicker pieces halved lengthwise

1

 

medium red ramiro pepper, stemmed, seeded and cut into 2-by-1-inch pieces
Method
Whisk together the oil, paprika, salt, cumin, garlic and pepper in a mixing bowl. Add the vegetables and toss to coat.
Spread them out on the baking sheet; roast (middle rack) for about 20 minutes, stirring once or twice, until they are tender and browned in spots.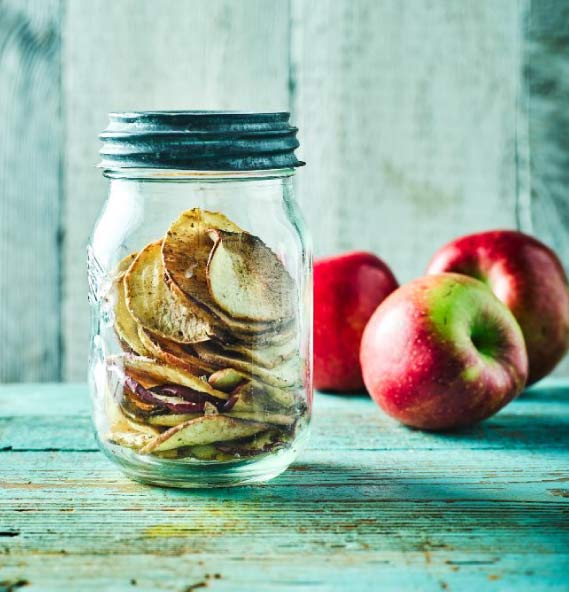 Spiced Braeburn Apple Chips
These are a fantastic snack for kids and much more nutritious than store bought sweets. It also encourages you to use different spices. Have fun with this recipe and see what other fruits you can utilise.
Source: The Doctor's Kitchen
400g Braeburn apples
1 tsp Cinnamon
1 tsp Cardamom seeds ground
½ tsp Ginger powder
Pinch of salt
1 tbsp Coconut Oil
Method
Preheat the oven to 150C Fan Assisted
Mix spice mix in a bowl
Thinly slice the apple into 1-2mm rounds
Tap the slices so the seeds fall out
Smother with the spice mix and place onto baking trays greased with coconut oil (you could also use baking paper)
Bake for 45mins until dry (turn half way through for an even bake)
Allow to cool and keep in an airtight jar for freshness