What to make with your box contents w/c 13 December 2021
Be creative and adapt recipes to suit what you have in your fridge and store cupboard. Don't forget to check out our last few blogs here on box contents use.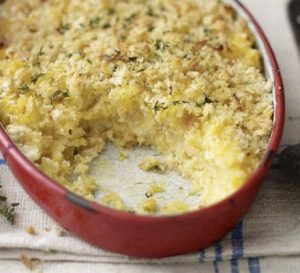 A mixed mash of favourite winter root veg with a crispy herb topping, which can be chilled or frozen ahead
Source: BBC Good Food
1/2 medium swede (about 300g), peeled and cut into chunks
250g parsnips, peeled and cut into chunks
17g butter, plus a little extra
2 tbsp golden syrup
100g fresh breadcrumbs
1 eggs, lightly beaten
1 tbsp olive oil
1 thyme sprig, leaves stripped
Method
Bring a large pan of water to the boil, and add the swede chunks. Boil for 3 mins, then add the parsnips and boil the lot for 12 mins more or until tender.
Drain well, then tip both together into a pan or bowl and mash well with the butter. Stir in the golden syrup, three-quarters of the breadcrumbs and the eggs with plenty of seasoning.
Transfer to a baking dish and smooth the surface.
Toss the remaining breadcrumbs with the oil, seasoning and thyme leaves, then scatter over the mash. Dot with a few knobs of butter.
The dish can now be covered and chilled for up to 48 hrs, or frozen for up to a month – defrost completely before baking.
To serve, heat oven to 200C/180C fan/ gas 6 and bake for 40 mins or until piping hot and the crumbs are crisp.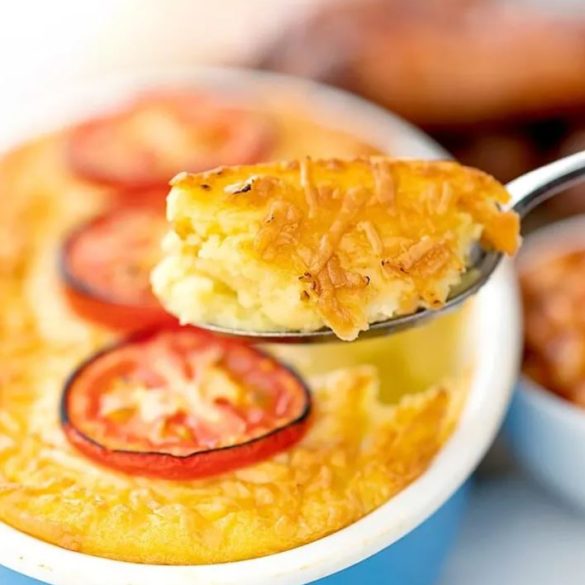 400g Potatoes
75g Butter
1.5 Tbsp English Mustard
150g  Mature Cheddar
1 Small Onion
1 Egg
1 Tbsp Milk
1 Tomato
Salt to taste
Method
Bring a pan of well-salted water to the boil. Add on the potatoes and boil until cooked, this should take around 20 minutes. Halfway through cooking the potatoes peel the onion and drop it into the pan. Drain the potatoes and mash the potatoes or pass through a potato ricer.
Add the butter, almost all of the cheese and the mustard and mix well.
Beat the egg with the milk.
Add in the beaten egg and milk, then mix well, you should have quite a "wet" mash.
Chop the onion into a 1cm dice and mix that through the potatoes.
Have a taste here and add more salt if required although it should not be!
Place the mash into a greased or buttered casserole dish (around 0.5 litres in size) and top with the remaining cheese.
Slice the tomato into 3-4mm thick slices.
Add slices of tomatoes to the top.
Bake in an oven at 200°C for 15-20 minutes.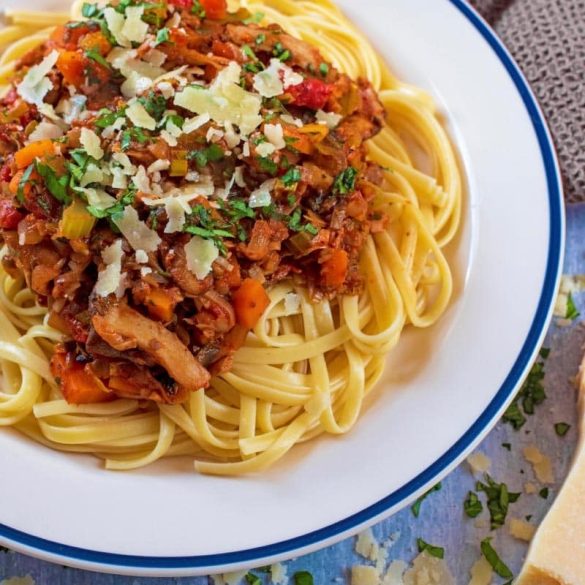 Source: Hungry, healthy, happy
1 tablespoon olive oil
1 small onion diced
1 pepper diced
2 medium carrots diced
2 garlic cloves crushed
1 stick of celery diced
2 leeks thinly sliced
250 g mushrooms half grated, half sliced
400 g chopped tomatoes canned
1 pinch sea salt and black pepper
2 tablespoon tomato puree
2 tablespoon balsamic vinegar
0.5 cup fresh basil chopped
2 tablespoon dried oregano
140 g linguine or spaghetti
Parmesan to serve
Method
Add the pasta to a pan of boiled water and simmer for 12 minutes.
Put the oil in a pan and heat gently. Fry the onions, pepper, carrots, celery, garlic and leek and gently cook for 4-5 minutes.
Add the mushrooms and cook for a further 3 minutes.
Add the chopped tomatoes, salt and pepper, tomato puree, balsamic vinegar, oregano and fresh basil and stir well. Add 1/4 tin of water if required.  Simmer for 5 minutes.
Drain the pasta and dived between bowls and then spoon the mushroom bolognese on top. Serve with a sprinkling of parmesan and extra basil.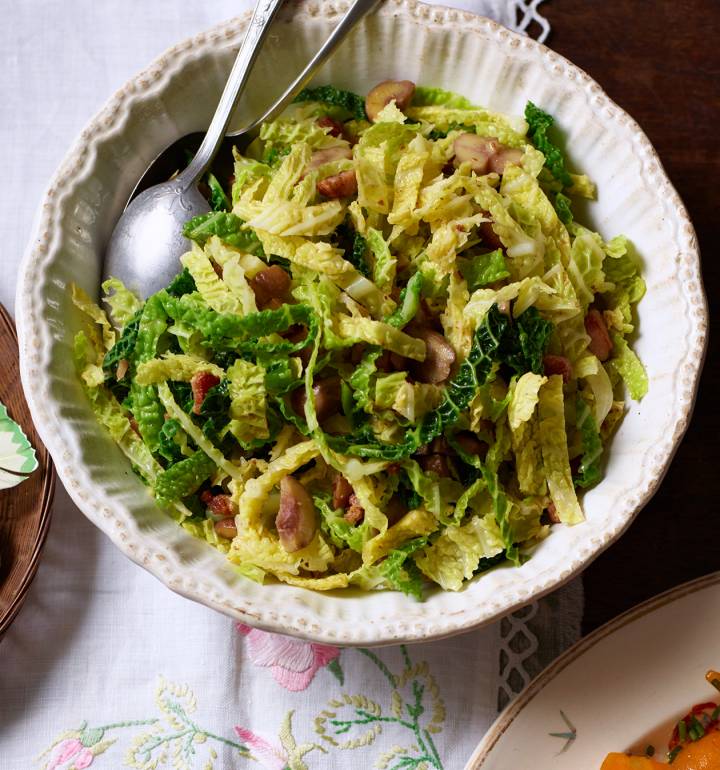 Savoy cabbage with lemon and bacon
Cabbage may sound like a boring side, but this is a delicious side dish to make.
1 large savoy cabbage (about 550g)
1 x 160g pack smoked bacon lardons (or chopped streaky bacon)
25g unsalted butter
1 x 180g pack cooked chestnuts, sliced
zest of 1 lemon
Method
Core and slice the cabbage. Put into a large pan on a high heat with a pinch of salt and pour in boiling water to about 1cm deep. Cover and cook for 4-5 minutes, then drain well.
In a large casserole, dry-fry the bacon for 4 minutes over a high heat.
Reduce the heat, add the butter and melt; stir in the chestnuts. Add the cabbage and lemon zest and toss to coat; season generously.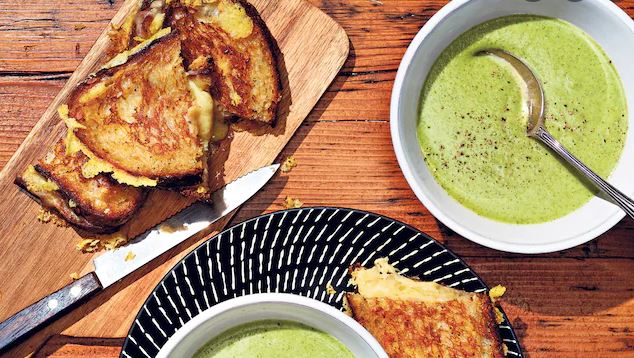 Broccoli soup with cheese toasties
Use up any leftover cheese – blue, cheddar, red leicester – in these melty baked sandwiches with soup
Source: BBC Good Food
1 large potato, diced
1.2l chicken or vegetable stock
400g broccoli, chopped into florets
For the toasties
7 slices bread
175g cheese, grated – cheddar, red leicester or any blue cheese
1 egg, beaten
3 spring onions, chopped
few drops Worcestershire sauce
Method
Heat oven to 200C/180C fan/gas 6. Put the potato and stock in a saucepan and bring to the boil, turn down to simmer for 10 mins until the potato is tender, then add the broccoli and some seasoning and cook for another 4-5 mins. Blend the soup until smooth, then return to the pan and keep warm while you make the toasties.
Whizz 1 slice of bread to make crumbs, then stir in the cheese, egg and onions. Spread over 3 slices of bread, add a dash of Worcestershire sauce, and sandwich each one together with the remaining slices. Brush with oil and bake for 10 mins, turning halfway through, until the outside is crisp and golden and middle melted. Cut into triangles and serve with the soup.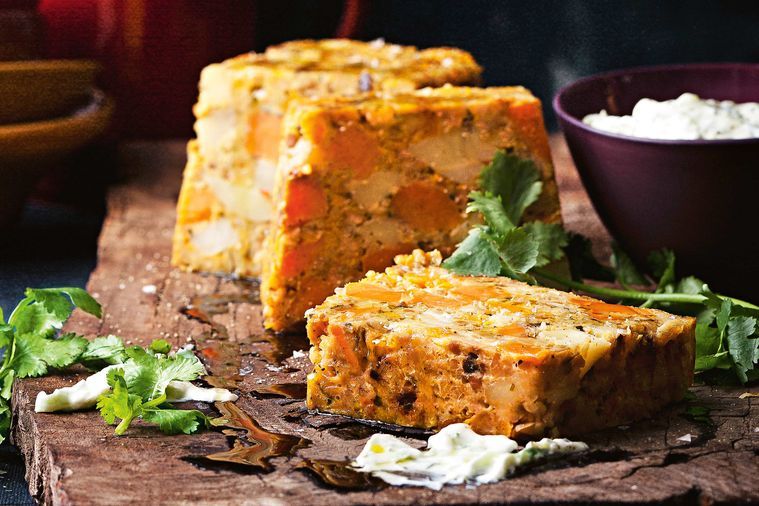 Roast vegetable and chickpea loaf with cucumber raita
A sophisticated vegetable meal with ras el hanout – a medley of fragrant spices from North Africa.
Source: Delicious
1kg mixed root vegetables (we used parsnip, carrot and potato)
1 tablespoon olive oil, plus extra to drizzle
1 onion, finely chopped
3 teaspoons ras el hanout
1/2 teaspoon ground chilli
3 slices sourdough (crusts removed)
75g toasted cashews
400g can chickpeas, rinsed, drained
Large handful coriander, chopped
2 eggs, lightly beaten
280g natural yoghurt
1/2 cucumber, seeds removed, finely chopped
1 tablespoon mint leaves, finely shredded
Method
Preheat oven to 180°C. Grease and line a 1L loaf pan with baking paper, leaving 5cm overhanging the sides. Cut the root vegetables into equal 2cm pieces, drizzle with oil, season and place on a baking paper-lined baking tray. Cover loosely with foil and roast for 15-20 minutes until tender.
Meanwhile, heat 1 tbs oil in a frypan over medium heat, add the onion and cook for 3-4 minutes until softened. Add the spices, stirring to combine, then remove from heat. Whiz the bread and cashews in a food processor until just combined. Add the chickpeas and pulse to coarsely chop.
Combine the cooked vegetables, onion and nut mixtures, coriander and egg in a bowl, season and stir to combine. Spoon into loaf pan and bake for 50 minutes or until golden. Set aside for 10 minutes.
To make the raita, combine yoghurt, cucumber and mint in a bowl and season with salt. Chill for 30 minutes.
Turn the loaf out of the pan, slice and serve with the cucumber raita.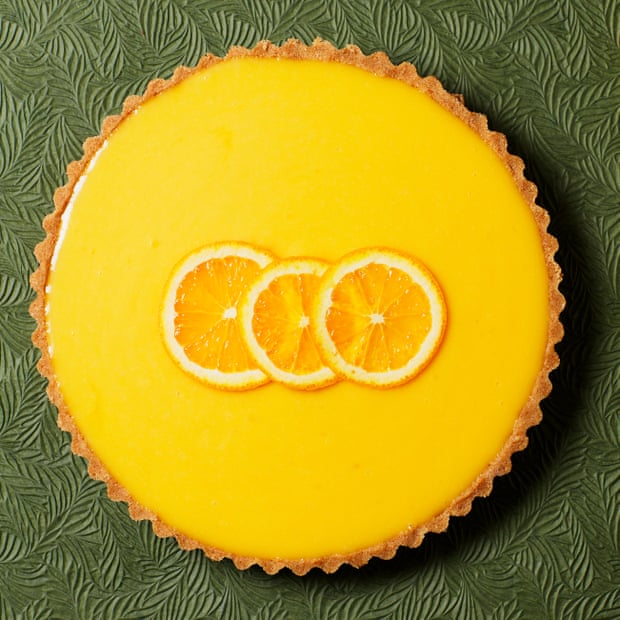 Christmas no-bake spiced orange tart
Cook time: 20 mins / Rest 1 hour
A simple biscuit crumb and butter base topped with a citrus filling that's a hassle-free delight
Source: The Guardian
For the biscuit base
225g digestive biscuits
50g melted butter

For the orange cream
400g orange juice
50g lemon juice
Zest of 1 orange, pared with a peeler
2 whole star anise
3 tbsp cornflour
200g granulated sugar
3 large egg yolks and 1 whole egg
200g butter, cold, cut into cubes
Method
Start with the orange cream. Simmer the citrus juices, orange zest and star anise in a covered saucepan, then remove from the heat and leave to infuse for one hour.
To make the base, blitz the biscuits to crumbs in a food processor, then stir through the melted butter. Press the mix into the base and sides of a 23cm cake or tart tin, then leave in the fridge to chill.
Once the spices have infused, remove the star anise and zest, then add the cornflour and sugar. Stir over a medium heat, until the mixture starts to boil and thicken, then simmer for two minutes.
Whisk the eggs in a large bowl, then pour in the orange mixture in a slow, thin stream, stirring quickly as you go. Return the lot to the pan and stir over a low-medium heat, until it starts to thicken again. Stir through the cold butter until melted, then pour on to the biscuit base and leave to chill in the fridge until set.