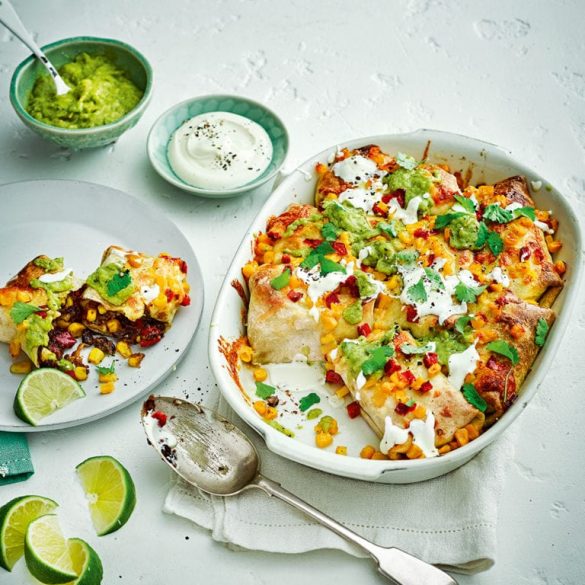 Black Bean, Sweetcorn & Red Pepper Chimichangas – Eat Healthy for Less
These cheesy black bean and red pepper chimichangas are sprinkled with extra cheddar and grilled until gooey and crispy. Serve with guacamole and soured cream. Enjoy for just £1.32 per serving. Let us know if you have a go at this dish and tag us in a picture on Facebook and Instagram.
Nutritional Information: Calories 419kcals; Carbohydrates 54.7g; Total Fat 21g; Saturated Fat 8.5g; Protein 15.5g; Fibre 10.4g; Salt 1.8g.
2 x 400g tins black beans, drained and rinsed
2 tbsp chipotle paste
396g tin sweetcorn, drained
100g Lancashire cheese, crumbled
3 bell peppers
1 lime, zested; 2 limes, juiced
8 tortilla wraps
Vegetable oil for brushing
150g pot of guacamole
4 tbsp soured cream
Handful fresh coriander leaves
Method
Place an oven rack in the upper third of your oven and preheat your grill to high. Put the peppers on a tray and grill. Let them roast for 20-25 minutes, turning them every 5 minutes until the peppers are charred, soft and start collapsing.  
Once done, remove from the oven and lay the peppers on a flat smooth surface and place a bowl over the top of them to allow them to steam for 15 minutes. . This will make it easier to remove the skins. 
Slice the peppers open and remove the stem and seeds. Peel the skin off the back and roughly chop the peppers.  
Heat the grill to high. Combine the black beans, chipotle paste and two-thirds of the sweetcorn, half the cheese and half the peppers in a bowl. Mash together roughly using a potato masher, then season with plenty of lime juice and a little salt.  
Divide the black bean mixture among the tortilla wraps. Fold the sides of each wrap towards the centre, then roll up tightly to form a parcel. Arrange the wraps folded-side down, in a microwave and ovenproof baking dish and brush with vegetable oil.  
Mix the remaining sweetcorn, cheese and red peppers in a bowl with lime zest and a squeeze of juice. Season to taste and sprinkle over the wraps.  
Microwave the whole baking dish on high for 5 minutes then immediately transfer to the grill and cook for a further 5 minutes until golden and heated through.  
Spoon over the guacamole and soured cream, sprinkle over the coriander leave and serve with lime wedges.