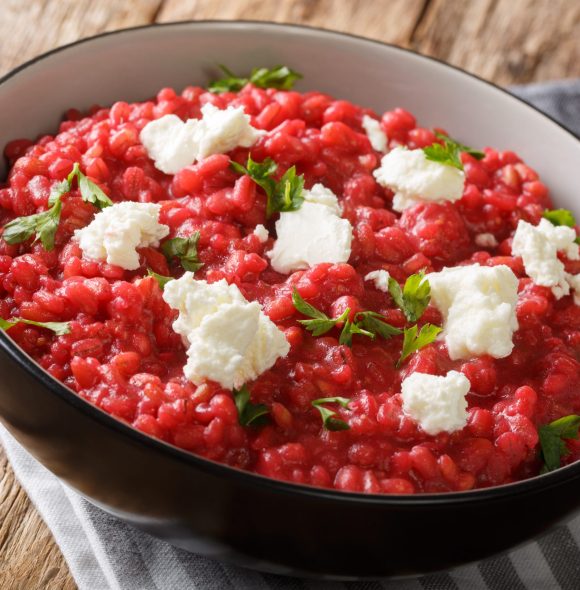 Beetroot 'Orzotto' – Eat Healthy For Less
This recipe is a great twist on an italian classic, risotto. Using orzo pasta instead of rice creating a similar creamy texture! The roasted beetroot adds some amazing flavour and the spinach adds all the goodness of greens.
Nutritional Information (per serving): Calories 415kcals; Protein 23.9g; Carbohydrates 60g; Total Fat 9g; Saturated Fat 5g; Dietary Fibre 6.7g; Salt 2.1g.
Method
Preheat the oven to 200C/180C Fan/Gas 6. Wash, trim and peel the beetroot, then cut into chunks.
Put the beetroot on a baking tray, pour over the oil and season with salt and pepper. Add the garlic cloves in and toss everything to coat in the oil.
Roast for 30-40 minutes, or until tender, turning halfway through.
When the beetroot is almost done, heat a little oil in a saucepan, add the onion until soft.
Add the orzo, hot stock and a little seasoning to the pan. Bubble until the stock has been absorbed and the orzo is cooked through.
When the orzo is almost cooked, add the spinach to wilt.
When all is cooked and the spinach has wilted, add the thyme and roasted beetroot and taste for seasoning. Serve in shallow bowls with feta scattered on top.