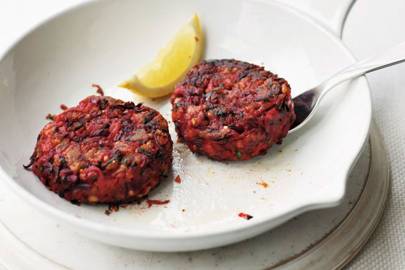 Beetroot, Carrot & Courgette Burgers
These veggie burgers are a great alternative for a BBQ.
2-3 tbsp olive oil
1 onion, finely chopped
2 garlic cloves, crushed
1 raw beetroot, grated
2 courgettes, grated
1 large carrot, grated
100g wholemeal bread, crusts removed
400g tin chickpeas, drained
3 tbsp crunchy peanut butter
1 egg yolk
For the sauce
350g plain yogurt
Olive oil
1/2 cucumber, peeled & diced
1 garlic clove, crushed
Lemon wedges, to serve
Method
Heat about 1tbsp of the oil in a large frying pan over medium heat. Sauté the onion and garlic for 4-5 mins or until softened. Add the grated vegetables and cook, stirring, for about 5 mins until wilted, then drain off any liquid.
Place the bread, chickpeas, peanut butter and egg yolks in a food processor and pulse to combine. Transfer the mixture to a bowl, stir through the grated vegetables and parsley, and season generously.
Form the mixture into 8 patties and chill for about 3 mins (or up to 24 hours). Heat the remaining oil in a non-stick frying pan over medium heat and cook the burgers, in batches if necessary, for about 2-3 mins each side until golden.
Make a quick sauce by combining the yoghurt, a drizzle of olive oil, cucumber and crushed garlic. Serve the burgers with the sauce and lemon wedges.