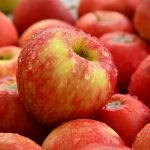 Bring out the Beautiful Braeburns
This variety is fairly easy to grow, produces heavily and early in the life of the tree and it stores well.  What marks it out from the competition though is its flavour.  Braeburn was the first modern apple variety in large-scale production where the flavour was genuinely on a par with the older classic apple varieties.  Braeburn's depth of flavour makes its main competition Red Delicious and Golden Delicious  seem one-dimensional in comparison.   
These apples come from Adrian Scripps Farms based in Kent.  Farming began in 1960 on a traditional Weald of Kent Hop and Fruit farm.  Their philosophy was simple – to produce quality produce, reinvest and expand. 
Today they have 750 Ha across 5 specially selected sites across Kent and grow apples, pears, blackcurrants making them one of the largest UK growers of fruits. 
To ensure consistent quality, they have developed centralised storage and packing facilities at Moat Farm with state of the art grading facilities including the latest in robotic technology to ensure they maintain high standards.  Combined with pioneering innovation in the orchard from the advancement of the trellis system to increased varietal development to ensure efficiency and quality. 
They also ensure they are an intrinsic part of the local community and the natural environment ensuring their fields and orchards provide habitat for a wide range of flora and fauna as well as an amenity for local people, societies and clubs. They also support a wide range of community projects including the refurbishment of local village playgrounds, planting and enhancement of wildlife habitats. They have invested in community shops, supported Britain in Bloom and supported many local teams and societies in local parishes. 
Bees and many other pollinating insects are allies in producing great fruit so they want to encourage them as best they can. As part of Operation Pollinator, the farms are creating natural habitats for pollinators to supplement the beehives they have on-site. 
A mix of pollen and nectar mixes have also been planted to encourage farmland wildlife by providing a crucial feed supply over the winter months. These were established following a Farming Wildlife Advisory Group report that they commissioned to establish the state of wildlife on our farms. 
 The work encouraging farmland birds has culminated in a project with the RSPB to promote the revival of the threatened turtle dove, which has had great success on their farms. 
 In recent weeks they have put up hundreds of bird boxes across the farms as there is a lack of natural spaces for birds to nest in. All the boxes are made from sustainable wood because it's important to know that when we are protecting wildlife in our local environment, that it's not damaging wildlife elsewhere. 
But it's not just encouraging wildlife that they take seriously. The farm understands the need to reduce their environmental impact and therefore have taken such measures as installing roof-mounted solar panels and developing new strategies to reduce waste that is sent to landfill through cardboard and plastic baling. 
Heritage is proud to work with such a great supplier and hope you enjoy the apples.   
In addition to eating Braeburns as a dessert apple, they are wonderful cooked too as they hold their shape well when cooked and can be easily used in pies and cakes and also make really good baked apples or sauteed with pork chops.
Spiced Braeburn Apple Crisps
These are a fantastic snack for kids and much more nutritious than sweets. It also encourages you to use different spices. Have fun with this recipe and see what other fruits you can utilise.
Turn halfway through for an even bake and bake for a bit less if you prefer them slightly chewy. Experiment with spices. Try Ground clove cardamom and nutmeg.
Source: The Doctors Kitchen
400g Braeburn apples
1 tsp cinnamon
1 tsp cardamom seeds, ground
1/2 tsp ginger
Pinch of salt
1 tbsp coconut oil
Method
Preheat the oven to 150C Fan.
Mix the spices in a bowl.
Thinly slice the apple into 1-2mm rounds.
Remove the seeds by tapping the slices so the seeds fall out.
Smother the apple slices with the spice mix and place them onto baking trays greased with coconut oil (you could also use baking paper).
Bake for 45 mins until dry.
Allow to cool and keep in an airtight jar for freshness.
Crispy Braeburn Apple & Almond Tart
Time: 1 hr + 4 hrs chilling
This French-style tart deserves a sophisticated apple. The Braeburn is crisp and sweet-tart with a fruity almost perfumed flavour. It's a perfect match for the delicate almond filling.
Source: Epicurious
Almond Cream
150g ground almonds
30g sugar
1 large egg
1/2 tsp vanilla extract
1/8 tsp salt
75ml double cream
Crust
8 sheets filo pastry
60g unsalted butter, melted
2 1/2 tbsp sugar
3 medium Braeburn peeled, halved, cored, each half cut into 3mm thick slices
3 tbsp apricot jam
3 tbsp water
Method
Whisk ground almond and sugar in a medium bowl. Whisk egg, vanilla, and salt in another medium bowl. Whisk half of the almond mixture into the egg mixture. Whisk in the double cream, then remaining almond mixture. Press cling film directly onto the surface of almond cream, then cover with foil and chill for at least 4 hours. Can be made 2 days ahead. Keep chilled.
For the crust: 
Position rack in centre of the oven and preheat to 180°C. Line a baking tray with baking paper or a silicone baking mat. Place a stack of filo sheets onto a work surface and cover with cling film, then a damp kitchen towel to prevent drying. Transfer 1 filo sheet to a prepared baking tray (keep remaining filo covered). Brush the filo sheet lightly with some melted butter, then sprinkle evenly with 1 teaspoon sugar. Top with second filo sheet; brush with melted butter and sprinkle with 1 teaspoon sugar. Repeat with the remaining 6 filo sheets, melted butter, and sugar.
Spoon almond cream in dollops on top of the filo, then carefully spread evenly over, leaving a 1/2-inch plain border on all sides. Using the palm of your hand, fan-out 7 apple slices, side by side and slightly overlapping, on work surface. Using a spatula, transfer fanned-out apple slices to a corner of 1 short side of filo. Repeat fanning out 7 apple slices at a time, arranging in 2 to 3 lengthwise rows on top of the almond cream, spacing close together.
Bake the tart until apples are tender, almond cream is set, and crust is golden and crisp for about 40 minutes. Transfer baking sheet with tart to a wire rack. Carefully run a metal spatula under the tart to loosen from the sheet.
Combine jam and 3 tablespoons of water in a small saucepan. Bring to simmer over medium heat, stirring to loosen. Brush jam over apples and tart crust. Using 2 large metal spatulas, transfer tart to a platter and serve warm or at room temperature.
Fast Food-Style Apple Pie
This recipe is based on a popular fast-food chain dessert but these are cooked in an oven rather than a fryer.
Source: Nosey Chef
3 Braeburn apples, peeled, cored and diced
4 tbsp brown sugar
1 tsp cinnamon
1 tsp ground nutmeg
375g puff pastry, ready rolled
1 egg, beaten with a little salt
Milk, to brush over
A dash of caster sugar
Method
Set an oven to 200˚C.
Mix the apples, sugar and spices in a sauté pan, and cook on low until the apples are soft. Cool.
Roll out the puff pastry a little more on a floured surface. Arrange the apples in a series of lines (5–6 depending on how many pies you want) over one half of the pastry. Brush over the exposed pastry with the egg. Fold the pastry over exclude the air and cut the pies out in rectangles. Crimp the edges with the tines of a fork. Chill for 15 mins on a baking tray lined with baking paper.
Brush the chilled pies with the milk, dust over with the caster sugar and bake in the oven for about 25–30 mins until crisp and golden.