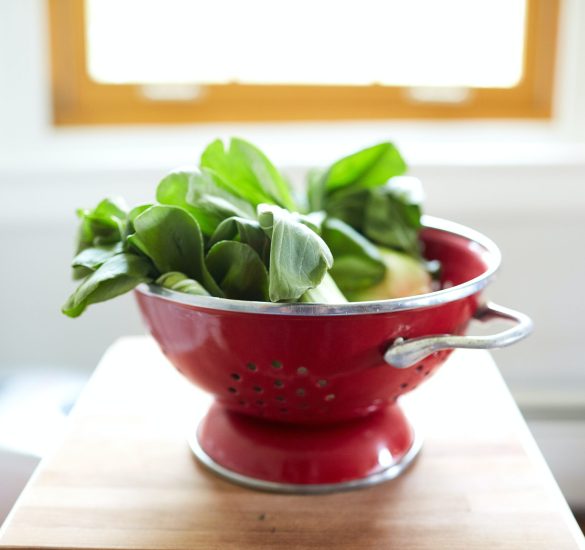 Enjoy this amazing vegetable and try out some of our recipe suggestions.
It's in the same family of veggies as broccoli, cabbage, and cauliflower. It's light, crisp, and crunchy on the bottom and has dark green leaves on top and it's great when quickly stir-fried, sautéd or add to soups and stews. The leaves wilt a little and the white bottoms stay light and crisp.
It's also a staple ingredient in Asian dishes. The tender dark green leaves and crisp off-white-coloured stalks provide a nice fresh crunch. The greens have a spinach-like taste with a very mild bitterness.
Bok choy is highly nutritious. It's packed with fibre, vitamins, minerals, and antioxidants, but is very low in calories and carbohydrates. It's easy to prepare and makes a tasty addition to soups, stir-fries, and other Asian-influenced dishes. Bok choy has a wide range of nutrients that help promote bone health — including iron, calcium, phosphorus, magnesium and bone-building vitamin K. In addition, this superfood is a much healthier alternative to milk for getting the RDA of calcium and preventing calcium deficiency.
You can store bok choy inside a loosely closed plastic bag in the refrigerator for up to 3 to 5 days. Wait to wash until you're ready to cook.
Although the leaves can be eaten raw and tossed into fresh salads, there are improved taste benefits when cooking the entire vegetable. Adding in aromatics and sauces creates layers of flavour. Fresh ginger, minced garlic, and sliced spring onions provide instant pungency and earthiness. Cook these in vegetable oil until fragrant as they are very delicate. You want to make sure the garlic does not burn. To further enhance the flavour add a sauce at the very end of cooking. A combination of soy sauce, vegetable broth, rice vinegar, sesame oil, honey, and chilli flakes is really tasty.
Below are our top 3 recipes to inspire you (and don't forget to check out more recipe inspiration on our Pinterest board). Don't forget to share what you make on our Facebook page.
10-Minute Garlic Bok Choy
Crisp, fresh, and bursting with loads of unexpected flavour, this Garlic Bok Choy Recipe is guaranteed to be your new favourite side dish. Ready in just 10 minutes, enjoy this easy vegetarian side dish with chicken, beef, or fish. If you prefer a more mild vegetable side dish, don't add the chilli flakes.
1 tbsp vegetable oil
5 garlic cloves, minced
2 large shallots, minced
900g bok choy, halved or quartered
2 tbsp soy sauce
1 tsp sesame oil
1 tsp chilli seeds (optional)
Method
Add the oil to a large wok or frying pan over medium-high heat. Swirl to coat the entire surface of the pan.  Add the garlic and shallots, stirring continuously for 1-2 minutes, or until fragrant.
Add the bok choy, soy sauce, and sesame oil. Toss to coat and cover. Cook for 1-2 minutes, uncover and toss, and then cover and continue to cook until the bok choy is cooked to your desired taste (approximately 3-5 minutes more).
Sprinkle with crushed chillis and serve immediately. Enjoy!
Quick Pork Ramen with Carrots, Courgette & Bok Choy
If you have a few extra minutes, the optional soft-boiled eggs add a wonderful richness to this dish. If you can't find fresh or dried ramen noodles, substitute spaghetti. You can also substitute the mushrooms for fresh ones too.
30g dried mushrooms
Salt
450g fresh or 280g dried ramen noodles
2 heads baby bok coy, quartered lengthwise
1 tbsp toasted sesame oil, plus extra
450g pork mince
1/2 tsp freshly ground black pepper
4 spring onions, thinly sliced
3 tbsp white or yellow miso paste
1.4 litres chicken stock
2 tbsp soy sauce
2 tsp sriracha sauce (hot chilli sauce)
1 medium carrot
1 medium courgette
4 large soft-boiled eggs (optional)
Bunch coarsely chopped basil
Place mushrooms in a medium bowl and cover with hot water. Let sit until ready to use.
Cook noodles according to package directions, adding bok choy during the last minute of cooking. Drain noodles and bok choy; rinse with cold water.
Meanwhile, heat 1 tbsp of oil in a large pot over high heat. Add pork, 3/4 tsp salt, and 1/2 tsp pepper and cook, stirring and breaking up meat slightly, about 3 minutes. Add half of the spring onions and cook, stirring occasionally, until pork is just cooked through, about 3 minutes more. Add miso and cook, stirring until incorporated, about 30 seconds. Stir in stock, soy sauce, and 2 tsp Sriracha.
Drain and slice mushrooms; add to the pot. Cover and bring to a low boil. Uncover the pot, reduce heat to medium, and simmer 5 minutes. Taste and adjust seasonings, if necessary.
Meanwhile, using a mandoline or the large holes on a box grater, coarsely grate carrot and courgette. Divide noodles, bok choy, carrot, and courgette among bowls. Top evenly with soup, eggs, if using, basil, and remaining spring onions. Serve with additional sesame oil and Sriracha for drizzling alongside.
Salmon & Bok Choy Green Coconut Curry
Meet your new favourite, cold-weather one-pan salmon dinner. It's warm and creamy with coconut milk and just spicy enough with green curry paste, ginger, and garlic; plus, it's covered in lots of herbs and crunchy cashews.
4 skinless salmon fillets
2 tsp salt
400g tinned coconut milk
4 tbsp green curry paste
2 tsp finely grated ginger
1 garlic clove, finely grated
2 tbsp fresh lime juice
4 spring onions, thinly sliced
1 bunch coriander leaves with tender stems
30g roasted salted cashews
1 chilli, thinly sliced (optional)
Rice, for serving (optional)
Method
Season salmon on all sides with 1 tsp salt. Let sit until ready to use.
Cook coconut milk, curry paste, ginger, garlic, and remaining 1 tsp salt in a large high-sided pan over medium heat, stirring occasionally, until simmering, 5–6 minutes.
Meanwhile, cut bok choy stems into thick slices and leaves into pieces. Rinse well and drain. Add to coconut milk mixture and stir to coat. Nestle salmon fillets into bok choy in an even layer. Cover pan and cook over medium-low heat until salmon is just cooked through and flesh is opaque, 6–8 minutes. Remove from heat and pour lime juice over salmon.
Scatter spring onions, coriander, cashews, and chilli (if using) over salmon and bok choy. Serve with rice alongside (if using).