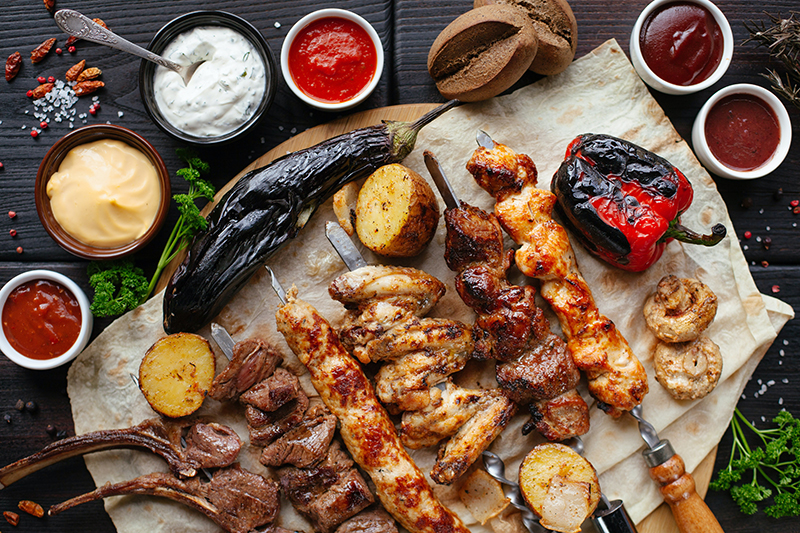 BBQ Bonanza – feeling hot, hot, hot!
With the forecast for the next fortnight looking hot, it's finally time to really enjoy alfresco eating and use that barbecue, put on your shorts, grab a glass of beer, Pimms or cider and get barbecuing.  In addition to the normal sausages and burgers, we have some amazing marinated meats in our BBQ packs as well as a delicious well-stocked vegetarian pack for the non-meat eaters.
Don't forget too that we stock an extensive range of fresh and dried herbs, perfect for your store cupboard to jazz up your BBQ menu.
So what are you waiting for? See our full BBQ range here. If you don't have the extra items needed for the recipes below you can either shop and swap out up to 3 things in your box or add to it.
Heritage hopes to make your BBQ a roaring success.
Simply Tasty BBQ Halloumi served with Smoky Tomato Pepper Salsa
In the vegetarian BBQ pack you will find a block of halloumi.  Here's a quick, tasty recipe to wow your veggie friends (and non-veggie friends!).
1  block of halloumi cheese (serves 2)
2 tbsp extra virgin olive oil
1 tbsp dried oregano
Black pepper
For the salsa
1 small red onion
Handful of coriander
125g tomatoes
½ red pepper, deseeded
3 tbsp extra virgin olive oil
2 tbsp red wine vinegar
1½ tsp mild sweet 2 tbsp red wine vinegar
Pinch of sugar
Method
Cut the halloumi into 4 strips (if you want, you can thread it onto metal skewers, or wooden ones that have been soaked for 10 mins). Drizzle with the oil, then sprinkle with the oregano and add a good grind of cracked black pepper.
Grill on the barbecue for 2-3 mins each side, then serve with smokey tomato salsa.
If you want, you can also cut smaller chunks of halloumi and add some other veg onto the skewer or do the whole block on the BBQ.
For the salsa
Put all the ingredients in a food processor and pulse until chopped (but not too fine). Pour into a serving bowl and add seasoning and a pinch of sugar.
Why not try out our easy marinade recipe that comes together in minutes for the best BBQ chicken you've ever tasted?
1/2 cup olive oil
1 tsp sea salt
1/2 tsp ground black pepper
1/2 tsp paprika
1/2 tsp cumin
1/4 tsp cayenne pepper
2 cloves garlic minced
3 tbsps chopped onion
1/2 cup chopped fresh parsley
1 1/2 cups beer, ginger ale, apple cider, or apple juice
Method
Pour the olive oil into a measuring jug. Mix together the salt, pepper, paprika, cumin, and cayenne pepper and add to the olive oil. Add garlic, onions, and parsley. Mix together well with a fork. Add the beer slowly (if using beer!).
Place 12 chicken thighs in a sealable food bag and pour over the marinade removing as much air as possible. Ensure all the chicken has been coated with the marinade.
Place the bag flat on a plate and refrigerate for an hour (or overnight if you can).
Top Tip! If you have leftover marinade, pour it into a sealable bag and freeze it! It will last up to 3 months in the freezer.
Great alternative to steak
Stop press….  We stock an amazing range of UK sustainably sourced fish, perfect for barbecuing.
Top up your box with the ingredients below for a gorgeous aromatic Moroccan style tuna steak skewer recipe. As an alternative, you can marinate the tuna steak for an hour in the chermoula and cook it as a whole steak on the BBQ. This is a firm family favourite in Emma's house.
4 tuna steaks, cut into 1 1/4 inch cubes
2 tablespoons olive oil
½ teaspoon ground cumin
2 teaspoons lemon zest, finely grated
For the Chermoula
½ teaspoon ground coriander
3 teaspoons ground cumin
2 teaspoons paprika
1 pinch cayenne pepper
4 garlic cloves, crushed and minced
½ cup flat-leaf parsley, minced
½ cup lemon juice
1/2 cup olive oil
Method
If using wooden skewers, soak in water for 30 minutes so they don't burn.
Place the tuna in a shallow non-metallic dish. In a small bowl, combine the oil, cumin and lemon rind and pour over the tuna. Toss to coat, then cover and marinate in the refrigerator for 10 minutes.
Meanwhile, for the chermoula, place the coriander, cumin, paprika and cayenne pepper in a small frying pan and toast over medium heat for 30 seconds, or until fragrant. DO NOT BURN! Combine with the remaining chermoula ingredients and set aside.
Thread the tuna onto the skewers. Lightly oil your grill or your BBQ and cook the skewers for 1 minute on each side for rare, or 2 minutes for medium.
Serve the skewers on a bed of couscous and drizzle with the chermoula.