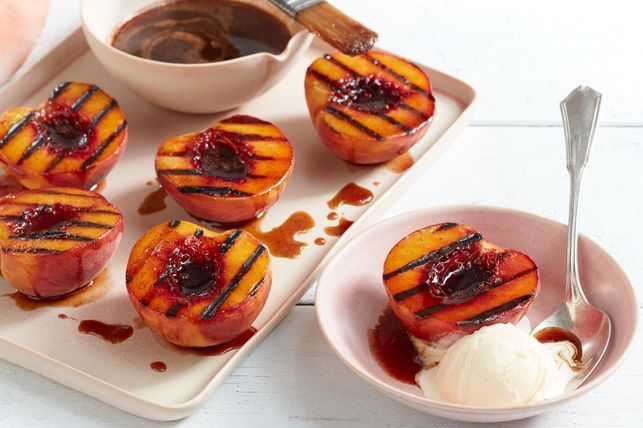 Barbecued Peaches with Brown Sugar Glaze
Turn up your grill skills and try these barbecued peaches drizzled with a brown sugar glaze and served with a scoop of creamy vanilla ice cream. Great way to finish off a BBQ.
55g brown sugar
2 tbsp hot water
1/4 tsp ground cinnamon
4 ripe peaches, halved & pitted
2 tsp vegetable oil
Vanilla ice cream, to serve
Method
Preheat barbecue for high heat. In a small bowl, mix brown sugar, hot water and cinnamon until sugar dissolves.
Brush cut sides of peach halves with oil. Barbecue peaches cut side down, for about 3 mins, or until char marks form. Turn peaches over and brush with some brown sugar glaze, allowing some glaze to pool in the pit indentation
of peaches. Continue cooking for about 3 mins, or until heated through.
Spoon ice cream into 4 bowls. Top with warm peaches and their juices. Drizzle with more brown sugar glaze and serve.