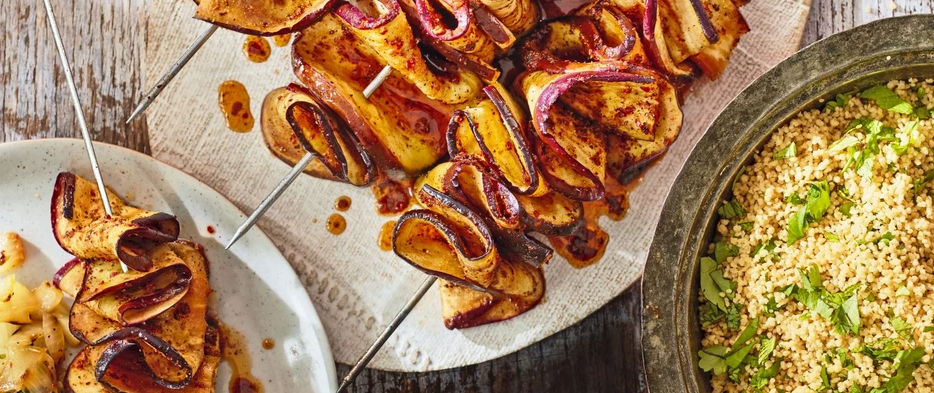 Aubergine Kebabs with Charred Onion Salsa
Try these veggie skewers for an easy BBQ option – simple to put together, quick to cook and easily scaled up or down depending on how many you're feeding. Salting the aubergines first means they suck up far less oil from the marinade. This is important for the texture, so don't skip it. Cooking aubergines in thin strips keep them soft and maximises the surface area, meaning you get more flavour from the spice mixture. Serve with couscous and plenty of yogurt.
1 aubergine, sliced lengthways
1 tbsp pomegranate molasses
2 tsp ground cumin
2 pinches ground cinnamon
2 tsp chilli flakes
6 tbsp olive oil
For the salsa
2 medium onions, thickly sliced
2 garlic cloves, crushed
1 tbsp mint leaves, finely shredded
1 tsp chilli glakes
2 tbsp olive oil
1 tbsp lemon juice
Couscous, to serve
Greek yogurt, to serve
Method
Light the barbecue. Meanwhile, sprinkle the aubergine slices on both sides with 1 tbsp of salt. Allow to drain in a colander or sieve for 30 minutes, then rinse and pat dry.
To make the salsa, put the onion slices over direct heat on the barbecue (skewering them first will make them more stable) and cook for 8 minutes or until lightly charred on both sides. Finely chop and mix with the other salsa ingredients, plus some salt and pepper. Set aside.
Combine the molasses, cumin, cinnamon, dried chilli flakes and olive oil, and mix to a paste. Brush evenly over the aubergine slices and thread them, concertina style, onto six skewers, packing them quite tightly.
Cook on the barbecue for 15-20 minutes, turning occasionally, or until soft and lightly charred. Serve with the onion salsa, herby couscous and yogurt.