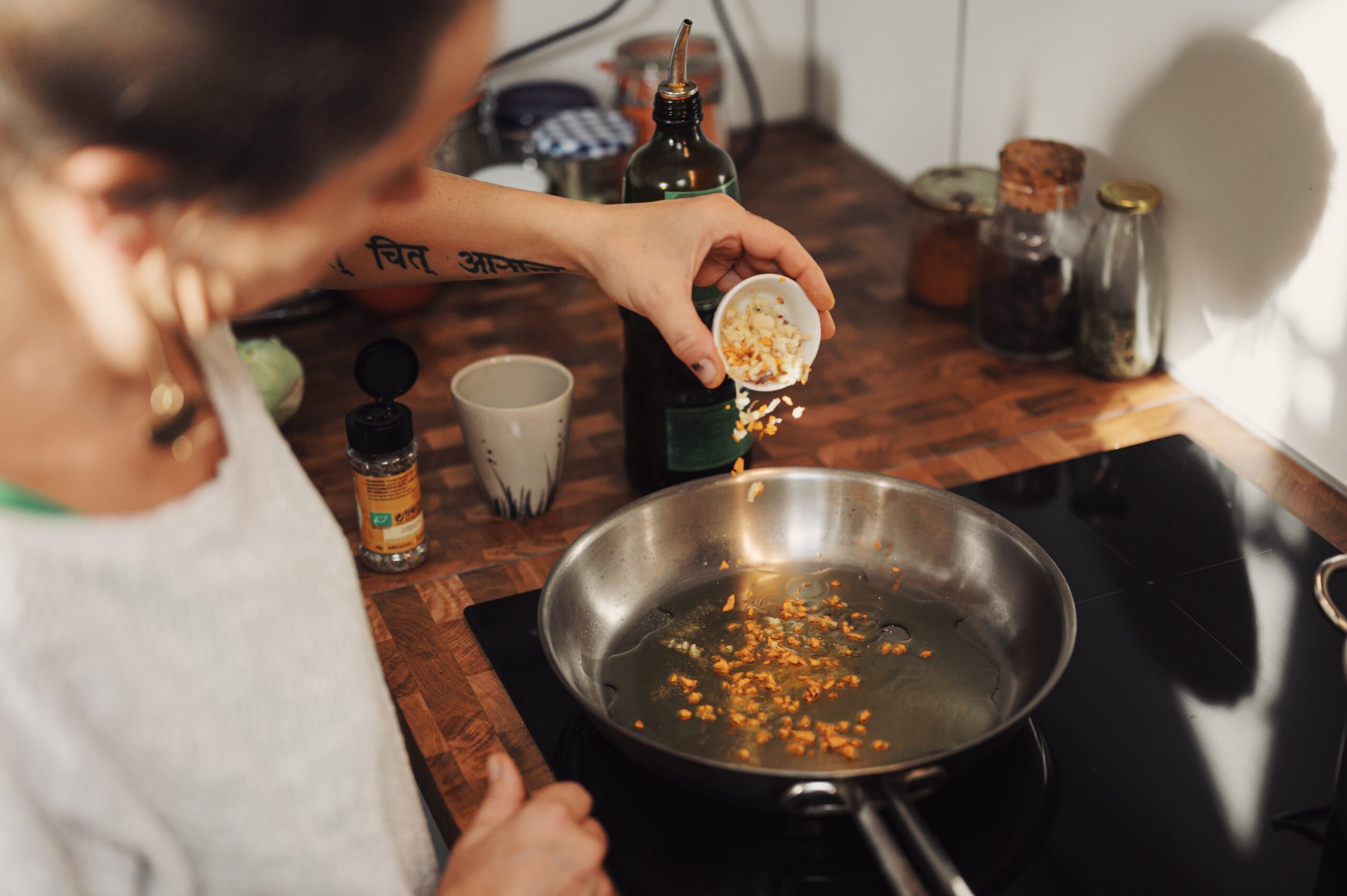 Add a bit of Indian Spice into your life
With the dreary wet weather and the current lockdown, we thought we would add a bit of spice into your life with some Indian culinary delights. So, get your spice larder topped up and create an Indian feast your whole family can enjoy. We've included free garlic, chilli and ginger in the boxes this week to get your curry base off to a great start. 
Indian food, not unlike any other country's national food scene, is a vast collection of culinary influences and traditions from all over the Asian continent. Each area uses locally available produce and spices but is also influenced by religion, historical events, cultural traditions and local choices.   
Traditional Indian food is built from similar flavour foundations.
Besides the standard spice kit of chillies, garlic and ginger the other commonly used ingredients used are mustard seeds, fennel seeds, cumin, cardamom, cinnamon, coriander, turmeric, fenugreek, garam masala and ghee (a clarified butter). 
Indian cuisine is relatively healthy (if you avoid the puddings and sweets), with plenty of vegetarian and even vegan options like okra bhajis, samosa, and dal. 
Cooking Indian food at home doesn't require any special equipment – a sauce pot and a sauté pan will do all the work just fine, the key lies in a good larder of spices.  
Try out some of our recipes (or get creative and freestyle some recipes) this week with your box contents and let us know what you think, don't forget to share these on Facebook too and check out our Pinterest board too.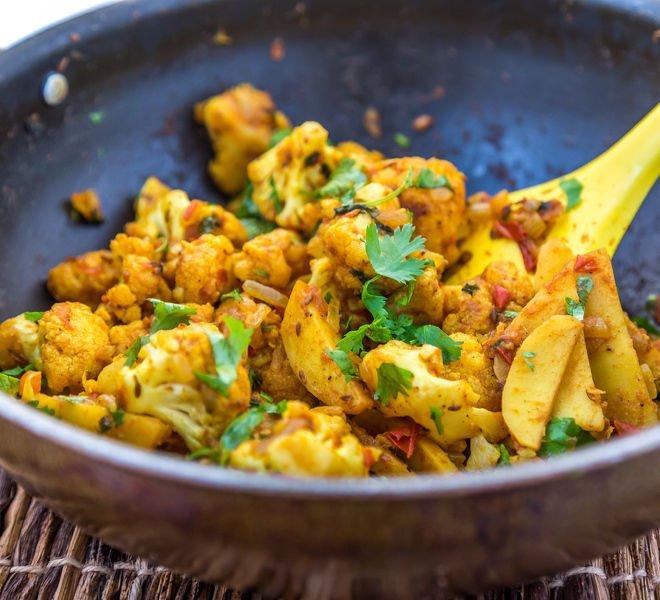 Spiced Potatoes with Cauliflower. This Aloo Gobi is packed with flavours, super comforting, vegan and simply the best aloo gobi you will ever have! 
Source: Cook with Manali
2 medium potatoes, sliced or cubed
1 medium cauliflower, cut into small florets
1 onion, chopped
2 tomatoes, chopped
1/2 tsp cumin seeds
2 garlic cloves, crushed
Inch piece of fresh ginger, grated
1/2 tsp turmeric powder
1/2 tsp Tamarind
1/4 tsp red chilli powder or to taste
1/4 tsp garam masala
1 tsp coriander powder
3-4 tsp oil
2 tbsp freshly chopped coriander
Salt, to taste
Method
Heat 2 teaspoon of oil in a pan on medium heat. Add the cauliflower florets and fry for 2-3 minutes and then add the sliced potatoes. 
Fry on medium-low heat for 7-8 minutes until the potatoes and cauliflower have some brown spots on them. 
Drain on a kitchen paper and set aside. 
In the same pan, heat 1.5 teaspoon of oil on medium heat and add cumin seeds and let them crackle. 
Add the onions and cook for 2 minutes till translucent. 
Add the ginger and garlic and cook for another 2 minutes or till the raw smell goes away. 
Add the chopped tomatoes and cook for 2 minutes until they are little soft. 
Add turmeric, red chilli powder, coriander powder and Tamarind. 
Cover the pan and let the masala cook for 2-3 minutes and then add the potatoes and cauliflower and mix. 
Add chopped coriander leaves and give a good mix. 
Add garam masala and cook the potato and cauliflower on medium-low heat for 5-6 minutes. 
Add salt and cover the pan. Cook for an additional 6-7 minutes on low flame or until the potato and cauliflower are tender but not soggy. If you feel the masala is sticking, you may add some water. Add 1 tablespoon at a time and only add enough to cook the veggies.  
Garnish with some more coriander leaves and serve hot with any Indian bread. 
Chana Masala (Chickpea Stew)
Quick and easy Chana masala recipe served over basmati rice. This spicy, hearty, chickpea-based Indian dish is vegan and gluten free. It makes great leftovers, too! Be sure to prep the ingredients in advance, as the recipe moves quickly.  
Source: Cookie and Kate
128g basmati rice, for serving
2 tbsp coconut oil or olive oil
1 onion, chopped
1 chilli, deseeded
1/2 tsp sea salt, to taste
5 garlic cloves, minced
1 tbsp freshly grated ginger
1 1/2 tsp garam masala
1 1/2 tsp ground coriander
3/4 tsp ground cumin
1/2 ground turmeric
Pinch of cayenne pepper, optional
800g tinned chopped tomatoes
800g tinned chickpeas, drained
Lemon wedges, for garnish
Fresh coriander, for garnish
Method
In a large saucepan, warm the oil over medium-low heat. Add the onion, chilli and salt. Cook until the onion is tender and turning translucent, about 5 minutes. 
Add the garlic and ginger, and cook until fragrant, about 30 seconds to 1 minute. Stir in the garam masala, coriander, cumin, turmeric, salt and cayenne (if using), and cook for another minute, while stirring constantly. 
Add the tinned tomatoes and their juices.  
Raise the heat to medium-high and add the chickpeas. Bring the mixture to a simmer. Cook, reducing the heat as necessary to maintain a gentle simmer, for 10 minutes or longer to allow the flavours to develop. Season to taste with additional salt, if desired. If it's not spicy enough for your liking, add another pinch of cayenne. 
Serve over basmati rice (cooked to the package instructions), and garnish with a lemon wedge or two and a sprinkle of fresh coriander leaves.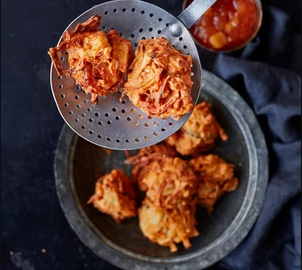 This pakora recipe from Jaswinder Gill produces perfectly spiced and crispy Indian snacks. Ideal for a family feast, serve with your favourite chutney.
Source: BBC Good Food
1 green chilli, chopped
Thumb-sized piece ginger, roughly chopped
1 tomato, roughly chopped
200g gram flour (chickpea flour)
1 1/2 tsp chilli powder
1 1/2 tsp garam masala
1 1/2 tsp ground coriander
2 medium potatoes, peeled, halved and thinly sliced, then halved into quarter moons
1/2 aubergine, thinly sliced, then halved into quarter moons
1/2 cauliflower, cut into florets
1 large onion, finely sliced
1/2 lemon, juiced
Vegetable oil, for frying
Chutney, to serve
Method
Heat oven to 120C/100C fan/ gas 1/2. Make a paste by blitzing the chilli, ginger and tomato together, then set aside. 
Mix the gram flour with the spices. Add all the prepared vegetables and toss in the mix. Slowly add 150ml water until the batter coats the vegetables – they should be well coated, but not swimming in it. 
Add the tomato mixture and get your hands in there, mixing well until everything is incorporated. Add a little lemon juice and seasoning. 
Heat the oil to 180C. Take a handful of the mix and squeeze it into a loose little ball, to ensure the vegetables stick to each other when lowered in the oil. Use a spoon to carefully drop the ball into the oil. 
Fry for about 4 mins until golden and crispy, then taste to test for seasoning and consistency. You may also need to add a little water or gram our to the mixture at this point if your tester ball didn't hold together. Repeat, frying the remaining mixture in batches. 
Drain on kitchen paper and keep warm in the oven as you go. Serve immediately with chutney.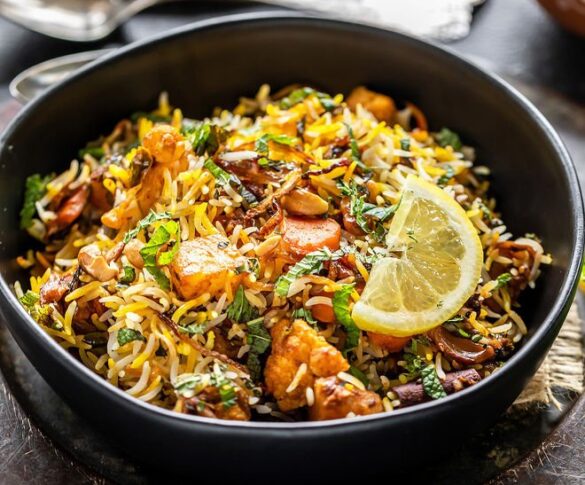 Traditionally meat is used in biryani and you can add that if you wish but we are doing with vegetables – you can use any veg you wish e.g. green beans, peas, mushrooms, cauliflower carrots, onions, potato – they all work well so it's a really versatile dish to cook. Make sure you use long grain basmati rice and use fresh ingredients i.e. it's better to use fresh garlic, chilli and ginger over potted. 
Source: Cook with Manali
200g basmati rice, soaked in 680ml water for 30 mins
6 green cardamom
4 cloves
1 tsp salt
1 1/2 tbsp ghee
2 red onions, thinly sliced
2 tbsp broken cashews
1 small potato, cubed
65g cauliflower florets
1 medium carrot, cut diagonally
5-6 green beans, cut diagonally
30ml milk
Generous pinch of saffron strands
1 inch ginger, crushed
4-5 garlic cloves, crushed
1 1/2 tbsp oil
1/2 tsp cumin seeds
1 inch cinnamon stick
1 bay leaf
3 whole black peppercorns
45g plain yoghurt, whisked
1 tsp garam masala
1/2 tsp chilli powder
60ml water
2 tbsp coriander, chopped
2 tbsp mint, chopped
1 1/2 tsp rose water or kewra water
Method
Cook the rice – Soak the rice in 680ml water for 30 minutes. After the rice has soaked, drain the water using a colander. Heat a pot full of water, add 3 green cardamom, 2 cloves and 3/4 teaspoon salt to it. Let it come to a boil. Add rice, stir with a spoon. Let it cook uncovered (don't lower the heat) until it's almost cooked. There should be a bite to it. This takes around 6 to 7 minutes. Remove pan from heat and drain rice in a colander. You may add a teaspoon of ghee to the rice. Set aside. 
Heat 1 1/2 tablespoons ghee in a pan on medium heat. Once hot, add 1 sliced onion to it and cook until they turn golden brown and caramelize. This takes around 8 to 9 minutes. Remove on a plate. 
To the same pan, now add cashews and cook until golden brown, around 1 to 2 minutes. Remove on plate and set aside. To same pan add potato, cook for 2 minutes until light brown. Remove on a plate. 
To the same pan, now add cauliflower, beans and carrots. Saute for 2 to 3 minutes until veggies appear light brown. Remove on a plate. 
Heat 2 tablespoons milk in a pan. Once warm, add saffron strands (crush it before adding). Let it sit for 10 minutes for that beautiful yellow colour. Saffron milk is ready, set it aside. 
Crush ginger, garlic and chili using a mortar and pestle. Set aside. 
Heat 1.5 tablespoons oil in a pan/pot on medium heat. Add cumin seeds, cinnamon stick, bay leaf, peppercorns, remaining 3 cardamom and remaining 2 cloves. 
Stir and let the spices sizzle for few seconds. Add the sliced onions also add 1/4 teaspoon salt. 
Cook for 3 to 4 minutes until onions turn light brown. Then add the crushed ginger-garlic and green chilies paste. Cook for 2 minutes until the raw smell goes away. 
Remove pan from heat and whisk in the yogurt, whisking continuously until it's all absorbed. Put the pan back on heat. Add all the veggies and toss to combine. Add the biryani masala and kashmiri red chili powder. Add 60ml cup water. Let it cook for around 6 to 7 minutes until veggies are almost cooked but not overcooked. They should be firm to bite. You may also cover the pan, I usually cook uncovered. There shouldn't be much water left, it should be kind of thick mixture. 
Remove from heat. 
Now take a heavy bottom pan. I first grease the bottom of the pan with ghee. Then add a layer of rice (half of the rice). Top with half of fried onion, half of fried cashews and half of cilantro and mint. Add 1/2 teaspoon of rose water. Now place the veggies on top. Then add another rice layer (remaining rice) on top of the veggies. Then top it with remaining with fried onion, cashews, cilantro and mint. Add the prepared saffron milk and the remaining 1 teaspoon rose water on top. And finally drizzle 1 tsp ghee on top. Sprinkle some biryani masala. 
I did 2 layers of rice and 1 layer of veggies. If your pan in small you may do more layers, but the end layer should always be of rice. 
Cover the pan tightly with foil. Then cover with a fitted lid. 
Heat a flat pan on medium heat. Once hot, reduce the flame to lowest. Place your biryani pot on top of the pan and let it cook for 25 to 30 minutes on lowest heat. Scoop out the biryani from the bottom of the pan so that each serving has both the veggies and the rice. 
Serve vegetable biryani with a side of raita.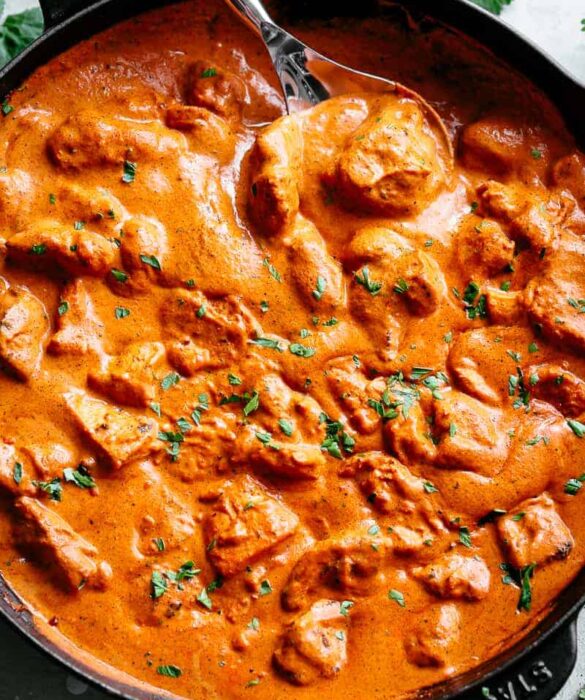 Originated from Northern India in 1948 and created by Kundan Lal Gujral it is similar to chicken tikka masala. Butter chicken is apparently one of the most popular curries in Indian restaurants across the world. A super easy, full flavoured butter chicken recipe that rivals any restaurant or takeway! 
Source: Cafe Delites
For the chicken marinade:
800g boneless and skinless chicken thighs or breast, cut into bite-sized pieces
190g plain yoghurt
1 1/2 tbsp garlic, minced
2 tsp garam masala
1 tsp turmeric
1 tsp ground cumin
1 tsp chilli powder
1 tsp of salt
For the sauce:
2 tbsp olive oil
2 tbsp ghee (or 1 tbsp butter + 1 tbsp oil)
1 large onion, sliced or chopped
1 1/2 tbsp garlic, minced
1 tbsp ginger, finely grated
1 1/2 tsp ground cumin
1 1/2 tsp garam masala
1 tsp ground coriander
400g tinned chopped tomatoes
1 tsp chilli powder
1 tsp salt, to taste
240ml double cream (or evaporated milk)
1 tbsp sugar
1/2 tsp kasoori methi (or friend fenugreek leaves)
Fresh coriander to serve
In a bowl, combine chicken with all of the ingredients for the chicken marinade; let marinate for 30 minutes to an hour (or overnight if time allows). 
Heat oil in a large frying pan or pot over medium-high heat. When sizzling, add chicken pieces in batches of two or three, making sure not to crowd the pan. Fry until browned for only 3 minutes on each side. Set aside and keep warm. (You will finish cooking the chicken in the sauce.) 
Heat butter or ghee in the same pan. Fry the onions until they start to sweat (about 6 minutes) while scraping up any browned bits stuck on the bottom of the pan.  
Add garlic and ginger and sauté for 1 minute until fragrant, then add ground coriander, cumin and garam masala. Let cook for about 20 seconds until fragrant, while stirring occasionally. 
Add tinned tomatoes, chili powder and salt. Let simmer for about 10-15 minutes, stirring occasionally until sauce thickens and becomes a deep brown red colour. 
Remove from heat, scoop mixture into a blender and blend until smooth. You may need to add a couple tablespoons of water to help it blend. Work in batches depending on the size of your blender. 
Pour the puréed sauce back into the pan. Stir the cream, sugar and crushed kasoori methi (or fenugreek leaves) through the sauce. Add the chicken with juices back into the pan and cook for an additional 8-10 minutes until chicken is cooked through and the sauce is thick and bubbling. 
Garnish with chopped coriander and serve with fresh, hot garlic butter rice and fresh homemade Naan bread!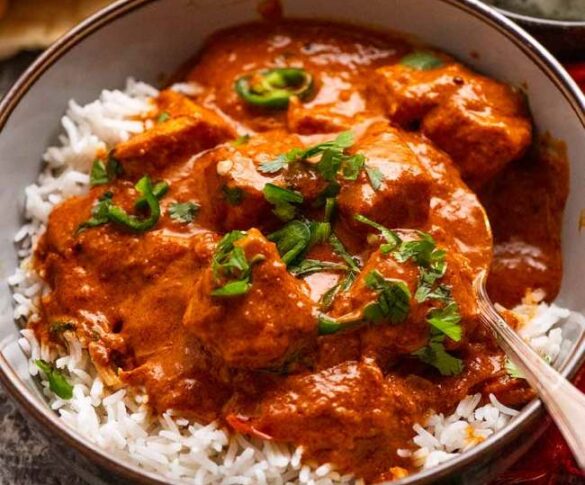 This fish curry comes to you from a little pocket of Indian paradise that's all about the sun, surf, sand and excellent seafood! With a deeply aromatic tomato and coconut based sauce, this curry calls for a good handful of spices but once you start cooking, it's done in 20 minutes. 
This recipe is quite spicy. The spiciness comes from the chilli powder. To reduce spiciness, leave out the chilli powder – this will leave the curry with quite a warm buzz but not overly spicy.
Source: Recipe Tin Eats
For the curry paste:
2 1/2 tbsp chilli powder
1 tbsp coriander
2 tsp cumin
1 tsp turmeric
1/2 tsp fenugreek powder
1/2 tsp ground cloves
6 garlic cloves, minced
1 tbsp ginger, freshly grated
2 tbsp tamarind puree
1/2 red onion, chopped
90ml water
For the curry
3 tbsp vegetable oil
1/2 tsp black mustard seeds
1/2 red onion, cut in half, quartered and thinly sliced
1 tbsp tomato puree
165ml tinned chopped tomatoes
165ml water
400ml coconut milk
1 1/4 tsp salt
1 1/2 tsp sugar
1/4 tsp chilli powder
2 long green chillies, cut in half lengthways and deseeded
1 tomato, diced
600g white fish, cut into bite-sized pieces
30g fresh coriander, to garnish
Basmati rice, to serve
Method
Place Curry Paste ingredients in a tall jug or milkshake container (something that fits the head of a blender stick) then blitz on high for 5 to 10 seconds until the onion is pureed. Add more water if needed to make it puree.
Sizzle black mustard seeds: Heat oil over medium heat in a large pot. Add black mustard seeds and let them sizzle for 30 seconds – careful, they might pop!
Add red onion and cook for 3 minutes until edges start to tinge with gold.
Cook off curry paste: Add curry paste and cook for 3 minutes – to evaporate water, make spices bloom and cook garlic & ginger.
Add tomato paste and chopped tomatoes, cook for 2 minutes.
Add water, coconut milk, sugar, salt and chilli powder if using. Stir, then bring to simmer, low heat so it's bubbling gently.
Simmer for 2 minutes, add tomato and green chilli.
Simmer for another 3 minutes, stirring every now and then – sauce should be thickened (not watery), it gets looser again when fish is added.
Add fish, stir, cook for 3 to 4 minutes until fish easily flakes.
Remove from stove and transfer to serving bowl. Garnish with coriander. Serve with basmati rice.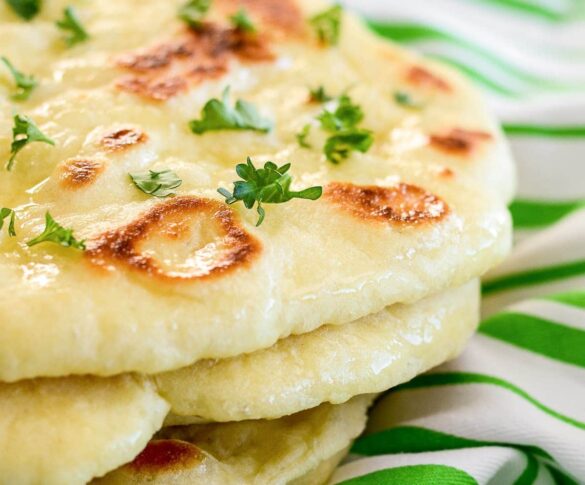 This homemade Naan Bread is soft, chewy, and simply delicious. You won't believe how easy it is to make and will want it as a side to every meal. 
Source: Lilluna
120ml warm water
2 tsp instant yeast
1 tsp sugar
3 tbsp olive oil
60ml plain yoghurt
1 egg
1/2 tsp salt
385g plain flour
2 tbsp butter, melted
2 tsp garlic, minced
Method
Combine warm water, yeast, and sugar in a large bowl; let sit for five minutes or till bubbly. Add olive oil, yogurt, egg, salt and 2/3 of the flour. Stir till smooth. 
Add enough flour to make a soft dough. Knead a few times on a floured counter until smooth.  
Place dough in a greased bowl. Cover and let rise in a warm place until doubled. 
Preheat a skillet to medium heat. 
Cut dough into eight pieces. On a floured surface, roll out each piece into a 6″ circle.  
Add a little oil or non-stick spray to the skillet. Cook each circle for 2-3 minutes or until bubbly and golden brown on the bottom. Flip over and cook for another 2-3 minutes. 
Brush the top (the bubbly side) of each naan with melted butter. I added garlic to my butter, but that is optional.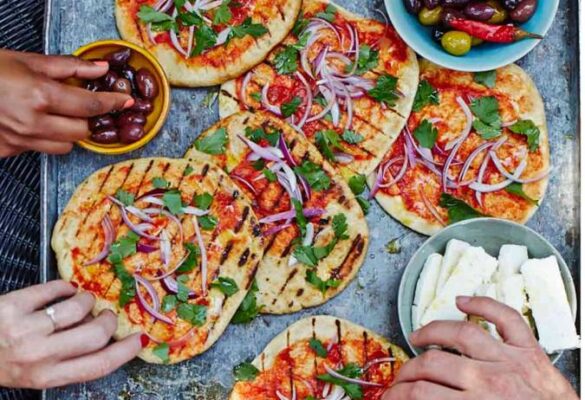 Tomato and Red Onion Flatbreads
Source: Sainsburys Magazine
500g strong plain bread flour, plus extra for dusting
1/2 tsp sea salt
7g packet fast action dried yeast
2 tbsp extra-virgin olive oil
1 small red onion, finely sliced
2 tbsp chopped flat-leafed parsley
Pinch of chilli flakes
For the tomato sauce
2 tbsp extra-virgin olive oil, plus extra to drizzle
2 fat garlic cloves, finely sliced
400g tinned chopped tomatoes
1/2 tsp sugar
Method
Put the flour and salt in a large mixing bowl. Dissolve the yeast in 300ml warm water and then pour onto the flour and stir in. Once all the water is incorporated, add the olive oil and bring the dough together. Transfer to a clean surface (lightly floured, if needed) and knead for 5-10 minutes until you have an elastic, smooth dough. Put it back in the bowl, cover with a cloth and set aside to prove for an hour. 
Meanwhile, make the tomato sauce. Heat the oil in a pan with the garlic and cook gently for a few minutes until pale golden. Add the tomatoes and sugar, bring to the boil and simmer for 15-20 minutes, stirring occasionally, until you have a thick sauce. Season; set aside to cool. 
Divide the dough into six and, on a floured surface, roll out each piece into thin discs. Cover with a cloth as they are ready, while you prepare the rest. 
Preheat and lightly oil a griddle pan, then place a few flatbreads directly on it for a few minutes, until golden and bubbles start to form. Turn them over, smear with a layer of the tomato sauce and scatter with onion. When the underside is golden, remove from the heat and repeat with the remaining discs. Sprinkle with parsley and chilli flakes. Serve with feta and olives.